€ 2.299,00
Excl. BTW: € 1.900,00
Beschikbaarheid:

Model:

OWCSSDA13MP4.0K

Spaarpunten:

1304

Merk:
Omschrijving
OWC Aura SSD for Mac Pro
4.0TB

Internal Solid State Drive Upgrade and Envoy Pro Storage Solution
First internal SSD upgrade for 2013 Mac Pro
Up to 2TB for up to 8x the internal capacity of the factory-installed drive
Free how-to videos and all tools included
Re-purpose the factory-installed SSD as a blazing fast portable drive
3 year comprehensive OWC SSD warranty
Get Up To 8x Factory Capacity
For the first time, upgrade your 2013 Mac Pro's internal SSD and gain up to eight times the original capacity. Available in 1TB and 2TB capacities, the Aura SSD for Mac Pro continues OWC's dedication to giving you more from your Mac.
Take the Factory SSD With You
The OWC Aura SSD for Mac Pro kit includes the award-winning Envoy Pro SSD enclosure, allowing you to easily repurpose the factory-installed Mac Pro SSD as an elegant aluminum-body USB 3.0 external drive for incredible portable performance.
Freedom To Do More
Regardless of which size factory SSD you're replacing, an Aura SSD upgrade gives you more space to work, create and play. Store large photo, music and video libraries, and improve efficiency in creative workflows. Such a huge capacity boost removes the factory capacity limit, giving you the freedom to do more on your Mac Pro.
Innovative, Dependable, and Made for Mac
Built on the time-tested Aura platform of high-performance SSDs, the Aura SSD for Mac Pro is the only internal SSD upgrade solution custom engineered for your Mac Pro. OWC SSDs feature an industry leading suite of controller technologies to deliver longevity and dependable performance along with up to double the maximum internal factory capacity.
Upgrade Easy with OWC
The Aura SSD for Mac Pro upgrade kit comes complete with everything you need for a simple DIY upgrade. OWC's comprehensive, free install videos guide you through the process step-by-step. Upgrading your Mac Pro with OWC couldn't be easier.
Click here
for all Mac Pro install videos.
OWC Aura™ SSD for Mac Pro Specifications:
Capacites
Form Factor
Flash controller
4x Sandforce SF2281 with 7% Over Provisioning
RAID controller
Interface
SMART Attributes
AHCI Compliant
RoHS Compliant
Format
Dimensions
Height: 3.5in / 89mm
Width: 3.3in / 83mm
Depth: .79in / 20mm
Weight
Reliability
ECC Recovery: Up to 55 bytes correctable per 512-byte sector
Security
Chip Based Data Encryption: 128-bit AES-compliant
Performance
Read: 726MB/s
Write: 698MB/s
Operating Temp
32°F to 158°F
0°C to 70°C
Non-operating Temp
-67°F to 302°F
-55°C to 150°C
Acoustics
0.0 bels for both Idle and Seek
Operating system compatibility
Mac OS 10.9 and up
Windows 8 and up*
Warranty
*Use of Windows on the Mac Pro Aura SSD requires direct installation of Windows to the drive. OS X's Bootcamp utility is not supported.
OWC Envoy Pro Specifications:
Chipset
Interfaces Supported
Compatibility
An Apple original SSD drive from Mac Pro, MacBook Air, MacBook Pro with Retina display, iMac, and Mac mini models with the model IDs listed below can be installed in to the OWC Envoy Pro enclosure.
MacPro6,1
MacBookAir6,1
MacBookAir6,2
MacBookPro11,1
MacBookPro11,2
MacBookPro11,3
Macmini7,1
iMac14,1
iMac14,2
iMac14,3
iMac15,1
Port Configuration
USB 3.0 interface (Micro-B port)
Max Data Transfer Rate
One Micro-B USB 3.0 port, up to 500MB/s
Features
Bus-powered* via USB 3.0 port (no AC adapter required)
Complements rMBP design, aluminum finish
Super-quiet, fanless operation
Non-skid rubber feet
System Requirements
Mac® Requirements: Mac OS 10.3 or later and an available and supported USB 3.0 port.
PC Requirements: Windows XP or later and an available and supported USB 3.0 port.
Linux® Requirements: Linux OS versions and an available and supported USB 3.0 port.
Cooling
Silent, fanless operation
Power Supply
Bus-powered via USB 3.0 port*
Drive Requirements
Compatible with the stock Apple Flash SSD module for all PCIe SSD based Macs
Dimensions
Height: .5in / 12mm
Width: 2.2in / 54mm
Depth: 4.5in / 115mm
Weight
3.4oz / 96.4g (without drive)
Operating Environment:
Temperature
Dependent on mechanism installed
Relative Humidity
Dependent on mechanism installed
Shock
Dependent on mechanism installed
Vibration
Dependent on mechanism installed
*Requires USB 3.0 standard powered port. USB 2.0 use not supported or recommended.
The Aura SSD is ONLY compatible with...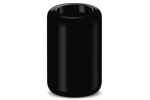 Mac Pro
(December, 2013)
2.7GHz 3.0GHz, 3.5GHz, 3.7GHz
Aura SSD for Mac Pro
Envoy Pro USB 3.0 enclosure
Carrying case for Envoy Pro
High-quality double-shielded USB 3.0 standard A to Micro-B connecting cable
Torx T5 screwdriver
Click any of the benchmarks below to view the results.
Beoordelingen (0)
Beoordeel
Note: HTML-code wordt niet vertaald!
Verder