€ 34,59
Excl. BTW: € 28,59
Beschikbaarheid:

Model:

OWCDIYIM21SSD11

Spaarpunten:

28

Merk:
Omschrijving
OWC Internal SSD DIY Kit iMac 21" 2011
For All Apple 21,5" iMac 2011 Models

Add a 3G or 6G Solid State Drive (sold separately) to your hard drive only equipped iMac to experience faster booting, near instant application launches and data transfer speeds up to 559MB/s!
Before attempting to perform this installation, please watch the following instructional video in its entirety to determine your ability to perform this complex procedure. OWC assumes no responsibility for damage that may occur during the install. Technical support for this DIY product consists only of this
video
OWC encourages the DIY philosophy, this is a very difficult install that requires advanced skills.
Includes
iMac to SSD SATA 6Gb/s cable
iMac to SSD power cable 922-9862
Thermal safe adhesive mounting set
This kit is compatible with...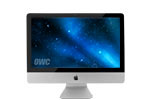 iMac (21.5-inch Mid 2011)
(May, 2011)
2.5GHz i5, 2.7GHz i5, 2.8GHz i7
iMac to SSD SATA 6Gb/s cable
iMac to SSD power cable
2 suction cups for the outer glass removal
Thermal safe adhesive mounting set
NewerTech 14-Piece Toolkit
NewerTech Microfiber Pro Cleaning Cloth
NOTE: This kit contains consumable and/or one time use components and therefore is not covered by any warranty. If you have any concerns about your ability to perform the upgrade, you can return the unopened kit for a refund. The 14-Piece Toolkit (except for nylon pry tool and Microfiber Pro cleaning cloth) included with this kit are covered by a 1 Year NewerTech Product Limited Warranty.
Beoordelingen (0)
Beoordeel
Note: HTML-code wordt niet vertaald!
Verder