€ 39,95
Excl. BTW: € 33,02
Beschikbaarheid:

Model:

OWCDIDIMACHDD12

Spaarpunten:

33

Merk:
Omschrijving
OWC In-line Digital Thermal Sensor for Hard Drive Upgrade for 27" iMacs 2012 and Later
Plug & Play in-line solution allows the use of any 3.5" Serial ATA hard drive to be used in your iMac while maintaining proper system fan speed control via Apple's built-in SMC with no software hacks. Fully compatible with Apple diagnostic testing. 27" models utilize 3.5" Hard Drives.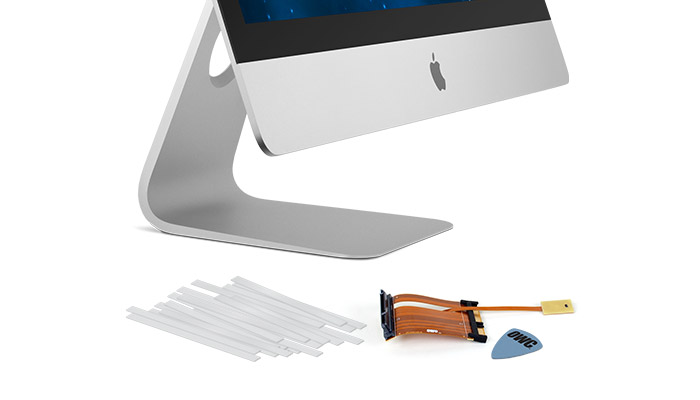 This kit includes:
OWC In-line Digital Thermal Sensor Cable, 'screen pick', and screen adhesives only.
Are you close to maxing out your factory-original hard drive? With the OWC Internal HDD DIY Kit, you can replace the original hard drive in your 27" iMac with a hard drive up to 4.0TB (sold separately) for up to 8x more storage capacity!

This kit does not include the tools required for performing this upgrade. If you need an upgrade kit with tools, you can purchase the OWC Internal HDD DIY Kit. Unlike some other drive upgrade options for 2011 iMac models, this OWC DIY kit is certified to successfully pass the Apple Hardware Test. This means the newly installed hard drive will work with Apple's built-in diagnostic process, preserving proper system fan speed control.

Note: Before attempting to perform this installation, please watch the OWC Install Video in its entirety to determine your ability to perform this complex upgrade. OWC assumes no responsibility for damage that may occur during the install. Technical support for this DIY product consists only of the OWC Install Video
This kit is compatible with...
Beoordelingen (0)
Beoordeel
Note: HTML-code wordt niet vertaald!
Verder
Fotos (2)