€ 41,54
Excl. BTW: € 34,33
Beschikbaarheid:

Model:

OWCDIDIMACHDD12

Spaarpunten:

33

Merk:
Omschrijving
OWC In-line Digital Thermal Sensor for Hard Drive Upgrade for 27" iMacs 2012 and Later
Required for any drive installed into the main drive bay.
Eliminate fan noise and maintain correct system fan control when upgrading your 2012 or later iMac.
The only iMac HDD upgrade option on the market certified to pass the Apple Hardware Test.
Fixes firmware incompatibility issues with third party hard drives.
Engineered in-house and backed by OWC's award-winning customer support.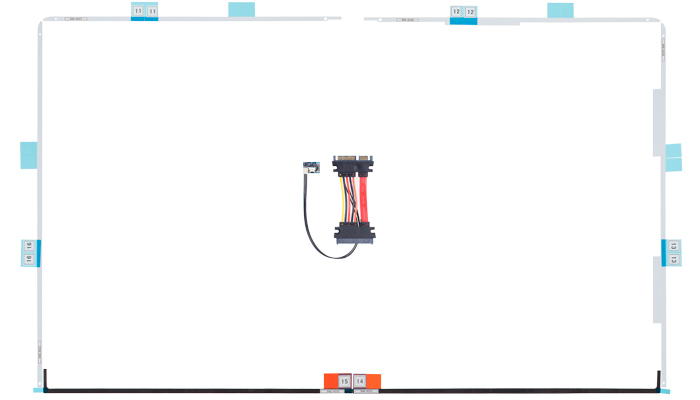 This item does not include installation tools.
Improve Performance and Capacity. Upgrade Your iMac with Confidence.
OWC's in-line solution is the only hardware digital thermal sensor on the market allowing a third-party SATA drive to be installed in your iMac. A convenient, plug-and-play cable, the In-line Digital Thermal Sensor eliminates fan noise and maintains proper system fan control through the iMac's System Management Controller. This innovative device is designed specifically for the iMac, requires no software hacks and ensures compatibility with Apple's built-in diagnostic processes.
Using an OWC Internal HDD DIY Kit (sold separately), replace your iMac's original hard drive with up to an 8.0TB hard drive or a lighting fast SSD with a NewerTech Adaptadrive, for dramatic upgrades in storage capacity or data speed while maintaining the original system's fan and diagnostic performance..
Note: Before attempting to perform this installation, please watch the install video below to determine your ability to perform this complex upgrade.

Professional installation is highly recommended.

OWC assumes no responsibility for damage that may occur during the install. Technical support for this DIY product consists only of the OWC Install Video.
Have OWC Upgrade Your iMac
While OWC encourages the DIY philosophy, this is a very difficult upgrade that requires advanced skills. If you are not fully confident in your ability to upgrade the drive in your 2012 iMac after watching the OWC Install Video.
This kit is compatible with...
Professional installation is highly recommended.
(1) OWC In-line Digital Thermal Sensor Cable
(1) 27" iMac Adhesive tape set for proper display resealing
Beoordelingen (0)
Beoordeel
Note: HTML-code wordt niet vertaald!
Verder
Fotos (2)