€ 859,00
Excl. BTW: € 709,92
Beschikbaarheid:

Model:

OWCS3DAPB4MB20K

Spaarpunten:

990

Merk:
Omschrijving
OWC
Aura Pro X


2TB SSD Upgrade Solution for Mac Pro (Late 2013)
Mac
Complete Internal Flash/SSD Drive Upgrade Kit with Tools & OWC Envoy Pro Enclosure
5 Year Warranty
Discover the Incredible Power of X
The best just got better
The newest member of OWC's Aura family of high performance drives sets the new gold standard SSD upgrade for PCIe equipped Macs, with guaranteed compatibility and capacity to spare. Featuring up to 2.3x faster performance and more efficient power management, the new Aura Pro X raises the bar again.
Designed for High Sierra
Designed for macOS 10.13 High Sierra and beyond, the new Aura Pro X SSDs support the advanced features of APFS, including strong encryption, copy-on-write metadata, space sharing, file and directory cloning, snapshots, fast directory sizing, atomic safe-save primitives, and improved file system fundamentals.
Cutting edge flash technology
Not all flash is created equal. The new Aura Pro X is manufactured with latest 3D MLC NAND flash, delivering superb dependability and unmatched speed. It's the perfect upgrade for your PCIe-equipped Mac.
Take the factory SSD with you
The OWC Aura Pro X upgrade kit includes the award-winning Envoy Pro SSD enclosure, allowing you to easily repurpose the factory-installed Mac Pro SSD as an elegant aluminum-body USB 3.0 external drive for incredible portable performance.
1
Upgrading the PCIe-based SSD in your Mac is a simple DIY job. The upgrade kit includes all the tools you need. Our comprehensive, free video installation guides mean an OWC expert is there to walk you through every step of the upgrade.
Guaranteed compatibility, no hassles or hacks
Aura PCIe-based flash storage upgrades are engineered specifically for your Mac, so you're never forced to compromise your data. No complicated software hacks or TRIM-enablers needed just to get the most from your upgrade. Install, migrate your data, and experience performance like never before and up to eight times more capacity.
Upgrade Easy with OWC
The OWC Aura Pro X upgrade kit comes complete with everything you need for a simple DIY upgrade. And OWC's comprehensive, free install videos guide you through the process step-by-step. Upgrading your Mac with OWC couldn't be easier.
The quality you depend on
Aura SSDs are proudly designed in Austin,TX, and are backed by an OWC limited warranty as well as a lifetime of free, award-winning USA-based support.
1.The OWC Envoy Pro enclosure is specifically designed for use ONLY with the factory SSD installed in select Apple Macintosh computers (excluding stock Apple Toshiba drives). Do NOT attempt to install or use OWC Aura or Aura Pro X SSDs in the Envoy Pro as you may damage the OWC drive, the enclosure, or both, and such damage is not covered under warranty.
2.0TB Aura Pro X SSD Specifications:
Specifications
NAND
3D MLC NAND Flash
2000GB useable capacity
SMART Attributes
Native Command Queuing
up to 32 commands
OS Requirements
macOS 10.13 High Sierra or later
Must upgrade to macOS 10.13 or later, prior to installation
Bootcamp Support
Yes
Reliability
TRIM Support
OS Dependent
Performance
Sequential Reads
(Compressible Data)
up to 1352MB/s
Sequential Writes
(Compressible Data)
up to 1066MB/s
1GB = 1,000,000,000 bytes. Total accessible capacity varies depending upon operating environment (typically 5-10% less). The actual total capacity will depend on your own defined file settings/preferences.
Temperature reporting is currently an unsupported feature because due to the operating characteristics of SSDs, it is highly unlikely one would ever exceed an OWC Mercury SSD's stated operating temperature ceiling of 158F/70C. However, we are looking into supporting this feature in the future via a firmware update. Firmware updates can be found here: http://eshop.macsales.com/tech_center/OWC/SSD.
macOS 10.13 and later versions include an EFI (firmware) update that adds support for the Aura Pro X to the host computer. If you do not first update the host firmware by installing macOS 10.13 or later onto the existing SSD, the Aura Pro X will not function properly once installed.
Envoy Pro Specifications:
Software Requirements
OS

OS X 10.3 or later
Windows XP or later
Linux OS with support for USB 3.0

Driver
Hardware Requirements
Mac or PC featuring USB 3.0 interface
Bootability
Any Mac that supports booting via USB
Interface (Chipset)
(1) USB 3.0 Micro-B (PLX USB 3380)
Performance
Up to 500 MB/s Read and Write
Note(s)

Speeds will vary based on drives used, setup, and other factors.
Power
Operation
Note(s)

Requires USB 3.0 standard powered port. USB 2.0 use not supported or recommended.
Environment
Environmental (Operating)

Dependent on mechanism installed

Environmental (Non-Operating)

Dependent on mechanism installed
Dimensions
Height: 0.4 in (1.0 cm)
Width: 2.1 in (5.3 cm)
Length: 4.5 in (11.4 cm)
Weight (without drive)
Manufacturer provided specifications for Other World Computing p/n S3DAPB4MP20K UPC#: 812437028287
This product is compatible with...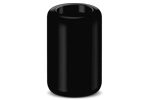 Mac Pro
(December, 2013)
2.7GHz 3.0GHz, 3.5GHz, 3.7GHz
Aura Pro X SSD
Tools
Envoy Pro Enclosure
USB 3.1 Gen 1 (Type-A to Micro-B cable)
Envoy Pro Carrying Case
Envoy Pro User Guide
Installation Guide for Mac Pro (Late 2013)
Beoordelingen (0)
Beoordeel
Note: HTML-code wordt niet vertaald!
Verder