€ 119,98
Excl. BTW: € 99,16
Model:

OWCSSDA2A6K120

Merk:
Omschrijving
OWC
120GB

Aura 6G
Solid State Drive + Envoy
for MacBook Air 2012 Edition
OWC's Aura SSD provides upgrades from the original factory options for MacBook Air 2012.
More OPTIONS choose from 120GB, 240GB, 480GB or 1.0TB models.
Once again, OWC provides Mac users an upgrade path that delivers higher performance, functionality, and reliability! Whether you own or are considering a 2012 base model 11″ MacBook Air with a 64GB Solid State Drive or the top of the line 13″ model with a 512GB SSD.
The 1TB Aura SSD features a suite of industry leading controller technologies for performance and reliability.
Global wear leveling algorithm automatically distributes data evenly and manages program/erase count, maximizing SSD lifespan.
StaticDataRefresh technology manages free space, gradually refreshing data across the SSD over time, enhancing data integrity.
Hardware BCH ECC corrects errors up to 66-bit/1KB for superior data retention and drive health.
Best-in-class power consumption
Advanced security protocols support AES 128/256-bit full-drive encryption
More Options
Unlike the factory pre-configured models with no other SSD choices offered, the OWC Aura 6G gives you the freedom to choose from a variety of sizes to meet your storage needs.
Better by Design
"Mean Time To Failure" – We all know that nothing lasts forever, but that doesn't mean you shouldn't get the most out of your investment. The 1TB Aura 6G SSD is designed and built in the USA and only uses tier-1 NAND flash. Utilizing a suite of industry-leading controller technologies and backed by a 5-year warranty, OWC SSD's are engineered to keep working reliably at max performance long into the future.

This adds up to a MTTF that is higher than most enterprise class hard drives and SSDs on the market today.
120GB Aura™ SSD 6G Specifications:
Specifications
Capacity1
120GB useable capacity
Total Flash Memory Components - 128GB
8GB allocated to real-time data redundancy & error correction
Formatted Capacity2
111GiB
NAND
Tier 1 Major Multi-Level Cell (MLC) High-Performance Async-NAND Flash
Controller
SandForce 2281 Series Processor with 7% Over Provisioning
SMART Attributes
Standard
Native Command Queuing
up to 32 commands
Manufacturer Model Number
OWCSSDA2A6G120
RoHS Compliant
Yes
Format
Reliability3
Data Reliability
ECC Recovery: Up to 55 bytes correctable per 512-byte sector
Security
Chip Based Data Encryption: 128-bit AES-compliant
TRIM Support
OS Dependent
Nonrecoverable Read Errors
Less than 1 sector per 1016bits read
Warranty
3 Year OWC and Macupgrade SSD Warranty
(Standard return policy applies.)
Performance
Sustained
Reads (up to)
501MB/s
Sustained
Writes (up to)
503MB/s
Random 4K Read4
Up to 60,000 IOPS
Random 4K Write4
Up to 60,000 IOPS
Read Latency
less than 0.1ms
Write Latency
less than 0.1ms
Power
Active Power
Less than 3000mW (3.0W) expected maximum draw
Idle Power
Less than 1200mW (1.2W)
Power Nap compatible
Environmental (Operating)
Temperature (°F)
32°F to 158°F
Temperature (°C)
0°C to 70°C
Environmental (Non-Operating)
Temperature (°F)
-67°F to 302°F
Temperature (°C)
-55°C to 150°C
Acoustics
Idle (Typical)
0.0 bels
Seek (Typical)
0.0 bels
1GB = 1,000,000,000 bytes. Total accessible capacity varies depending upon operating environment (typically 5-10% less). The actual total capacity will depend on your own defined file settings/preferences.
In terms of standard gigabytes, 1GiB ≈ 1.074GB and refers to the actual formatted capacity of shown under Mac OS 10.5 or earlier and Microsoft Windows OS.
Specific application environments such as temperature and duty cycle will affect the overall reliability rates.
Based on SandForce processor operation.
Specifications provided by SandForce.
Manufacturer provided specifications for Other World Computing p/n SSDA2A6G120 UPC#: 812437020151
The Aura™ is ONLY compatible with...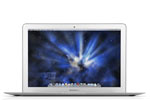 MacBook Air (13-inch Mid 2012)
(June, 2012)
1.8GHz, 2.0GHz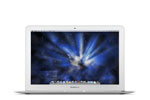 MacBook Air (11-inch Mid 2012)
(June, 2012)
1.7GHz, 2.0GHz
Aura SSD
Envoy™ USB 2.0/3.0 Enclosure
Carrying Case
High-quality double-shielded USB 3.0 standard A to Micro-B connecting cable
Pentalobe compatible driver
Torx T-5 Screwdriver
Beoordelingen (0)
Beoordeel
Note: HTML-code wordt niet vertaald!
Verder