€ 157,99
Excl. BTW: € 130,57
Beschikbaarheid:

Model:

OWCKITIM09HE250

Spaarpunten:

130

Merk:
Omschrijving
DIY Bundle
250GB OWC 3G SSD


and HDD Kit for Late 2009 - 2010 iMacs
Mac
Mercury Electra SSD and iMac HDD Kit
Upgrade with Confidence!
The complete solution for your 2009 - 2010 iMac
Experience the extreme performance of an OWC SSD upgrade with this easy DIY SSD and hard drive replacement kit. Add an SSD to your hard drive equipped iMac to experience faster booting, near instant application launches and lightning fast data transfer speeds.
Fast and reliable solid-state storage
Delivering the latest in flash NAND and controller technology, utilizing SLC and 3D NAND for long-lasting, power-efficient performance. Mercury Electra 3G SSD's offer a powerful combination of performance and reliability for demanding everyday computer users.
Upgrade Your iMac with Confidence.
OWC's in-line solution is the only hardware digital thermal sensor on the market allowing a third-party SATA drive to be installed in your iMac. A convenient, plug-and-play cable, the In-line Digital Thermal Sensor eliminates fan noise and maintains proper system fan control through the iMac's System Management Controller. This innovative device is designed specifically for the iMac, requires no software hacks and ensures compatibility with Apple's built-in diagnostic processes.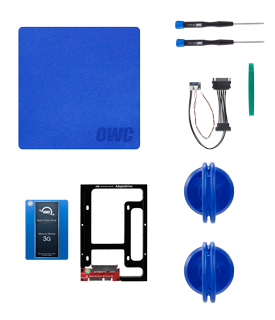 Maintains highest performance while offering ultimate convenience
The NewerTech AdaptaDrive has been benchmark test proven to deliver the same data transfer rates as is experienced when a drive is connected directly to the SATA data bus. The AdaptaDrive doesn't create a bottleneck or any performance throttling...it delivers pure data pass-through performance and drive use convenience from any 2.5" SATA 1.5Gb/s, 3Gb/s, or 3Gb/s hard drive or SSD.
Please note, that before attempting to perform this installation, it is recommended you watch the associated instructional video in its entirety to determine your ability to perform this complex procedure. OWC assumes no responsibility for damage that may occur during the install.
250GB Mercury Electra 3G SSD Specifications:
Specifications
Controller
4-Ch
NAND
Tier 1 3D NAND
Form Factor
Standard 7mm 2.5"
Interface
SATA 3Gb/s & 1.5Gb/s supported,
SATA 3.1 Compliant
250GB useable capacity
SMART Attributes
Native Command Queuing
up to 32 commands
RoHS Compliant
Yes
Format
Physical
Height (max)
7mm (0.276″)
Width (max)
70.06mm (2.758″)
Length (max)
100.12mm (3.941″)
Weight
77 grams +/- 2 grams
0.170 lbs +/- 2.71 oz
Reliability
TRIM Support
OS Dependent
Performance
Sequential Read (Compressible Data)
274MB/s
Sequential Write (Compressible Data)
253MB/s
Sequential Read (Incompressible Data)
271MB/s
Sequential Write (Incompressible Data)
247MB/s
Random 4K Read
Up to 90,000 IOPS
Random 4K Write
Up to 60,000 IOPS
Power
Environmental (Operating)
Temperature (°F)
32°F to 158°F
Temperature (°C)
0°C to 70°C
Environmental (Non-Operating)
Temperature (°F)
-40°F to 185°F
Temperature (°C)
-40°C to 85°C
1GB = 1,000,000,000 bytes. Total accessible capacity varies depending upon operating environment (typically 5-10% less). The actual total capacity will depend on your own defined file settings/preferences.
Temperature reporting is currently an unsupported feature because due to the operating characteristics of SSDs, it is highly unlikely one would ever exceed an OWC Mercury SSD's stated operating temperature ceiling of 158F/70C. However, we are looking into supporting this feature in the future via a firmware update. Firmware updates can be found here: http://eshop.macsales.com/tech_center/OWC/SSD.
AdaptaDrive Specifications:
NewerTech Part Number
Drive Inteface
Fully SATA Revision 3.0 (3Gb/s) compatible
SATA Revision 2.0 (3Gb/s) and 1.0 (1.5Gb/s) compatible
Drive Supported
(1) 2.5" SATA 3Gb/s drive
Material
Dimensions
Height: 0.4 in (1.0 cm)
Width: 4.0 in (10.2 cm)
Length: 5.8 in (14.7 cm)
Weight (Without Drives
Manufacturer provided specifications for Other World Computing p/n KITIM09HE250 UPC#: 812437028430
This product is compatible with...
27" iMac (2010) Install Video
21.5" iMac (2010) Install Video
27" iMac (2009) Install Video
21.5" iMac (2009) Install Video
Includes
(1) OWC Mercury 3G SSD
(1) AdaptaDrive 2.5" to 3.5" Drive Converter Bracket
(1) OWC In-line Digital Thermal Sensor Cable
(2) OWC 2-1/4" Suction Cup
(1) Torx T10 driver
(1) Torx T8 driver
(1) Nylon Pry Tool (Spudger)
(1) OWC Blue Microfiber Screen Cleaning Cloth
NOTE: This kit contains consumable and/or one time use components and therefore is non-refundable if opened. If you have any concerns about your ability to perform the upgrade, you can return the unopened kit for a refund.
Beoordelingen (0)
Beoordeel
Note: HTML-code wordt niet vertaald!
Verder